CES: Hanvon WISEreader E920 – mit Farb-eInk Display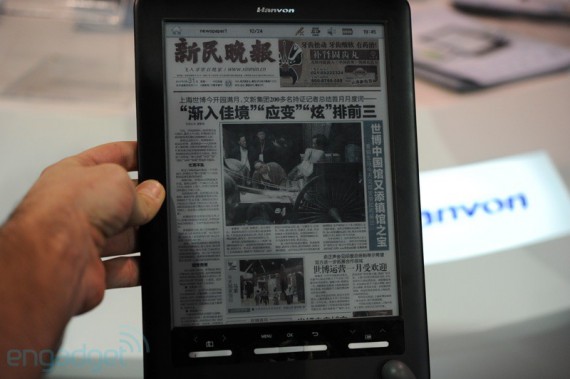 Ein neuer Tag, ein neues Engadget Hands-On von der CES. Diesmal handelt es sich um eine kurze Demo des neuen WISEreader E920 von Hanvon. Dieser neue eBook Reader bringt zwei große Besonderheiten mit sich. Die erste positive Überraschung ist die ausgesprochen hohe Auflösung des 9,7 Zoll Displays von 1600×1200 Pixel. Zum Vergleich: Der Kindle DX verfügt ebenfalls über eine Bildschirmdiagonale von 9,7 Zoll, aber nur über eine Auflösung von 1200×824 Pixel. Damit stehen 200dpi im E920 nur 150dpi im Kindle DX gegenüber, was in einer deutlich schärferen Textdarstellung beim E920 resultieren wird. Der zweite Meilenstein betrifft ebenfalls das Display: Es handelt sich um eInk-Technologie, welche Farben darstellen kann und ist somit das erste Mal konkret in einem Gerät angekündigt.
Das Gerät wird vermutlich über einen Touchscreen verfügen, welcher mit einem Stift bedient werden muss, sowie über WLan und 3G. Das ist allerdings deshalb noch nicht ganz klar, da Hanvon diese Features einem namentlich nicht genannten Reader in einer der Pressemeldungen zuweist. Da es sich beim E920 aber um einen Highend-Reader handeln wird, darf man davon ausgehen, dass auch dieser bei der Featureauflistung gemeint war. Gesichert ist die MicroSD-Speicherkartenerweiterung mit bis zu 32GB. Hanvon verspricht eine Standbyzeit von 15 Tagen und Akkulaufzeit von 10.000 Seitenumschlägen.
Nach den Bildern und dem Video zu urteilen, sind der Kontrast und Schwarzton sehr gut, die Farben scheinen aber etwas blass und ausgewaschen zu sein. Das sollte jedoch nicht weiter verwundern, denn es handelt sich hierbei um die erste Generation eines eInk Displays, welches Farben darstellen kann. Man darf also vermuten, dass in Zukunft nicht nur die Farbtiefe, sondern auch die Farbwiedergabe weiter verbessert wird. Bis es soweit ist, steht vermutlich schon die CES 2012 vor der Türe.
Bildergalerie Hanvon WISEreader E920
Pressemeldung #1
(January 6, 2011, Las Vegas) After Hanvon Technology Co., Ltd. (Hanvon) released the world's first color electronic paper book in Japan on November 10, 2010, it will for the first time launch another masterpiece – the world's first large screen 200dpi high-resolution electronic paper book that is installed with Freescale 508 processor – on Las Vegas CES show on January 6, 2011. Hanvon is a global leader in recognition technology and smart sensors. It leads the world's man-machine interface technology. With such technology, users can smoothly make complex handwriting input on terminal products and thus be able to lead a more intelligent life. With its powerful technical strength, Hanvon enters the e-book market. With a full range of integration capabilities, Hanvon has established a unique successful e-book development mode and become the world's second-largest e-book manufacturer. Meanwhile, Hanvon is also the world's leading supplier of handwriting recognition, OCR and biometric identification technologies.

Hanvon 200dpi high-resolution electronic paper book features powerful auxiliary reading functions, network functions and business office software, so it can perfectly achieve high-quality paperless office and reading. It will become the first choice for high-end business office people. It is nearly as large as a piece of A4 paper, having a 9.68-inch E INK screen and a brand new window-type operating interface, and supporting WIFI and 3G wireless Internet access. It can be operated and controlled with a Hanvon electromagnetic pen conveniently and smoothly. With a Hanvon third-generation pressure sensitive electromagnetic pen, it allows users to make comments, modifications and excerpts on it conveniently, thus completely achieving paperless reading and smoother and more precise writing.

Hanvon 200dpi high-resolution electronic paper book even has a better reading effect than traditional paper books. In addition to all functions of paper books, it also has instant translation, TTS voice reading and full text search. So it can provide powerful functions that paper books can not.

The electronic technology is ever-changing now. As an Internet-based comprehensive high-tech enterprise, Hanvon attracts much attention from all over the world. Hanvon electric paper book features high quality, versatile functions and a high cost-effective rate. Hanvon has constantly developed new technologies and products and constantly launched new electronic products that are far beyond people's imagination.
Pressemeldung #2
Hanvon Unveils Industry's First Large-Screen, High-Resolution eReader at CES

Hanvon WISEreader E920 Brings Crispness and Clarity to eReaders

2011 International CES

LAS VEGAS–(BUSINESS WIRE)–Hanvon, a leading global e-book manufacturer, today unveiled the Hanvon WISEreader E920, the industry's first large-screen, high-resolution e-book reader at CES 2011 (LVCC South Hall Booth #36062). The Hanvon WISEreader has a 9.7 inch screen and 200 dpi resolution, which provides some of the crispest and sharpest images ever seen on an E Ink-powered device. The eReader will be available by June 2011.

"Hanvon introduced the world's first color E Ink reader, and we are continuing to innovate with our large-screen, high-res eReader"

"Hanvon introduced the world's first color E Ink reader, and we are continuing to innovate with our large-screen, high-res eReader," said Mr. Liu Yingjian, president of Hanvon. "Consumers should expect clear, detailed text and images from their e-books, readable in bright light conditions, and the WISEreader E920 delivers this experience."

The Hanvon WISEreader is the perfect eReader for the traveler on the go, or those that do not want to remember to recharge their e-book reader. The WISEreader has a standby battery life of 15 days, and can read more than 10,000 pages before requiring a recharge.

The WISEreader will support extended MicroSD cards up to 32GB, allowing consumers to store more than 10,000 e-books on the reader. It provides all the traditional benefits of an E Ink reader and also supports a variety of formats, will speak in TTS voice, allows users to comment in PDF at any time and make instant Chinese-English translations.